Port Aransas Texas 9/30 - 10/1/2014 Fishing Report
May 4, 2017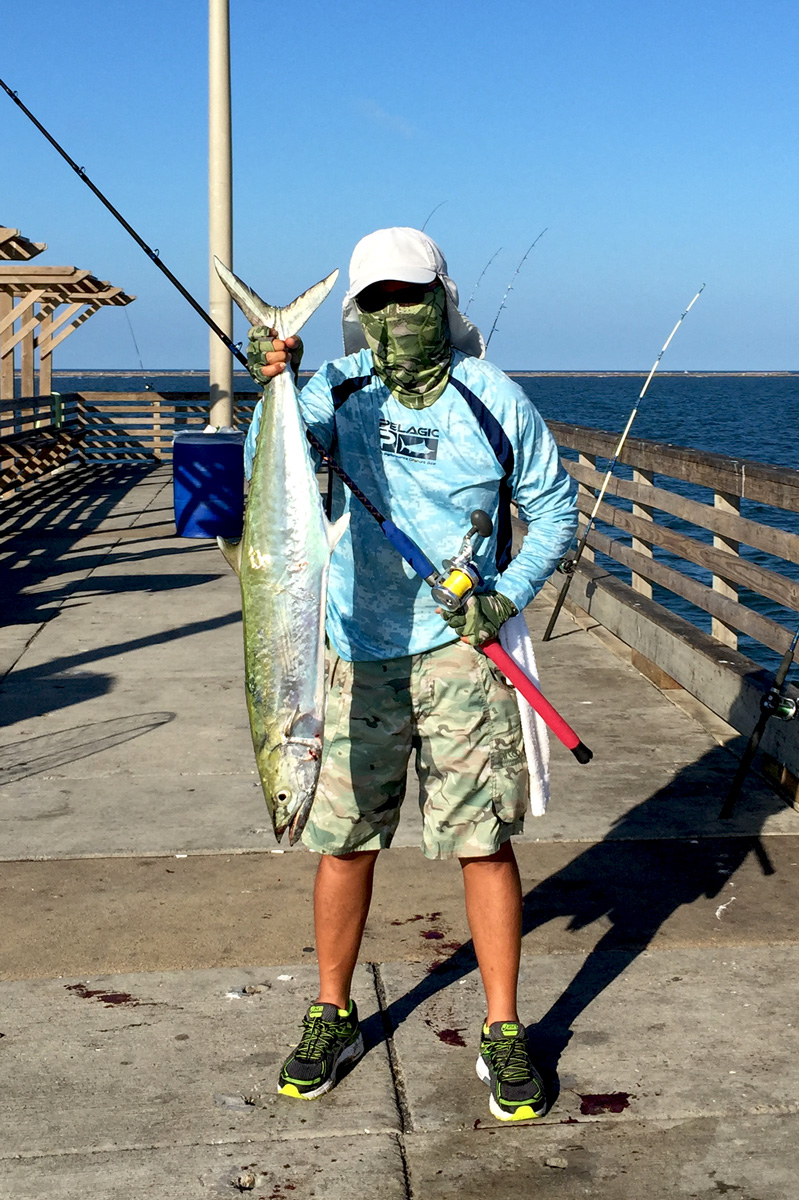 My 'Patriot' Color Scheme Rod with a Daiwa Saltiga Lever Drag Reel
After a few less than stellar trips, we finally found a couple of days that looked promising so we made the trip from Austin. Tuesday was ok, we got there a bit late and missed the morning bite. The upside is that we also missed the showers that were blowing through early morning. We did get about 15 smacks and 5 pompanos. Skip jacks everywhere. No takes on the slide rigs. Water conditions were nice.
Wednesday was the ticket. We got there before daybreak and set up. A friend who stayed on the pier overnight had just landed a 8 ft bull shark. Huge Spanish Mackerel were hitting just before light. I threw out an old silver Abu Koster spoon (anyone know where I can get more?) that I had for a while, with a rod that I had just built. It was based on an MHX 8' 6" blank rated for 8-15lb. The first cast had several strong whacks that did not connect. Half way through the retrieve, something solid connected and smoked out 20-30 yds of line off my Daiwa Certate 3000. I was slowly pumping it in when the fish suddenly stopped and made a high speed run quartering back to the pier. I reeled slack line frantically and ran to the side to get on top of the fish. This was where the high gear ratio of the Certate came in handy. I had to lean far over the railing with the rod to keep the fish from the pilings. I thought I was going to either break the line or the rod! Fortunately as is typical of Spanish Mackerels, when you get them to this point, they have pretty much burnt themselves out. This was a huge one too! The largest I've seen this season. Easily 25-26" and fat. After landing the fish I discovered that the 10' of 30lb test mono top shot was frayed to hell and needed replacing.

Magnum Spanish Mackerel
During the entire day any kind of silver spoon produced the bigger fish. Green and white jigs worked well too. Some pompano were even caught on green jigs and silver/redhead Gotcha plugs. Aside from the little baby pomp I caught with the Sabiki while catching bait, all the Pompanos caught were larger fish in the 15-17" range. This continued most of the day till we were all worn out. We had to work our way through lots of Skipjacks which was exhausting. They were tearing up schools of small shad everywhere. The water was literally boiling. Pompanos were mixed in there too but were harder to catch because of the Spanish Mackerel and Skipjacks. We started packing up about 5pm. The last rods to be packed were the slide rigs. While I was cleaning up gear, the slide rigged bait on my self built rod with the Saltiga Lever Drag 30 popped of the release clip and the reel started screaming. I let the fish have his head for about 15 -20 secs by leaving the drag at strike setting. Just enjoying the shrill scream of the reels clicker before tightening up and setting the hook. Seems I burned him up by letting him run so far because he came in quite docile. He was quickly netted and decked. A 25 lb king mackerel is a real nice way to end a trip. Bait was a feisty juvenile Jack Crevalle.
During the day we also saw a huge school of bull reds. The run should start real soon. And a small pod of 2-3 ft tarpon. We also got quite a few 4 ft black tips that we threw back.
Bait balls consisting of mainly of 1-2" shad were everywhere and the Spanish Mackerel and Skipjacks were just destroying them. Winds light SE/E 6-10 mph, seas were 1-2 ft with no chop. Water was clear green but towards end of day when winds picked up, there a light chop and the clarity diminished. Water temp hovered around 80-81F.
Final tally was a 2 man, 2 day possession limit of 60 Spanish Mackerel (we threw back many smaller fish of less than 16") and about 17 very good sized pompanos. And countless Skipjacks!
Overall it was an incredible trip with good company, meeting some new friends and catching up with some old ones. Even met a really nice couple from North Texas that recognized me from this blog! What more could a man ask for? Tight lines!