Cebaco Bay, Panama. May 2016
Jan 5, 2017
It's been a dream of mine to venture a little further in search of the things that have been keeping me up at night for as long as I can remember. Such is life when work and other priorities seem to always get in the way. I'm sure what I'm expressing is not much different from those of many others. We've all had to pay our dues but it's now time to do some collecting. Well in 2015 I finally made a conscious decision to start working on my bucket list and I started the wheels rolling by planning a trip to Cebaco Bay, Panama. Finally in May this year we got a group of six together and travelled to Panama City, Panama. Half the group flew out of Houston direct and the other half from LAX, CA. It was an uneventful 4 hour flight(from Houston, 6 from LAX) and we all arrived safely with gear and coolers intact.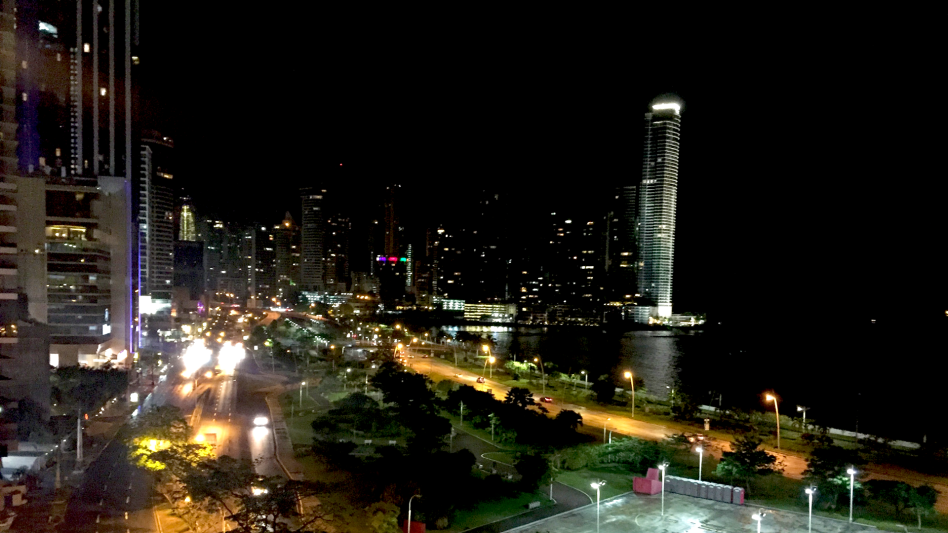 Panama Waterfront Skyline
Since it was our first trip to this new country we engaged Cebaco Bay Sportfishing's driver Mel for a couple of days to tour the city and to see the sights. Panama Canal etc. I was surprised at how first world Panama City was with its beautiful skyscrapers and waterfront skyline. It is quite a remarkable resemblance to the waterfront skyline in Singapore. The locals were all very friendly and we were pleasantly surprised that the USD was widely accepted as currency. The Panama canal is indeed an engineering marvel. If you have the time to tour the city, make sure you visit Casco Viejo and the waterfront. Needless to say the nightlife is quite lively (not that I've experienced it first hand ;)) and the local food was simply amazing! Be prepared for very bad traffic and congestion in and out of the city. Rush hours there are no joke!
Enough about that. Our driver picked us up early in the morning for a 4 hour ride by minivan to Puerto Mutis. A small fishing port located near the north western coast. From there it was a 2 hour boat ride through a scenic mangrove estuarine system to the Journey Bay anchored in a sheltered cove at Cebaco Island. The Journey Bay is a converted Gulf Coast rig tender and featured a nice party deck with lounge chairs and fully air conditioned staterooms. A long trip you may be thinking but keep in mind that you will be traveling to and be based in a very remote location that is smack dab to some of the best unspoiled fishing locations in the region. During our entire stay we did not encounter another fishing boat while fishing the area except for the one day at the ever popular Hannibal Bank location.
As soon as we unloaded to the Journey Bay and began unpacking, the crew began setting up the tackle we brought. They thoroughly inspected our gear, checked and/or retied our knots etc and began selecting the appropriate lure for each rod. They also set the drags of the reels. A very good sign that this was indeed a crew that was intuitive and knew what it took to make a client feel confident. We had a good selection of poppers, swimbaits and jigs and the crew seemed to really like the Yozuri Bull Pops and Shibuki type swimbaits. Apparently the Shibuki type lures were like 'unobtainium' in Panama. Good thing I brought quite a few. They also rigged up only one of rods with a new Z-Craft 200 gram 'Cyclops' slow fall jigs that I brought, and rigged the others with the standard West Coast style knife jigs. They were not too familiar with the new style flat fall jigs (more about this later).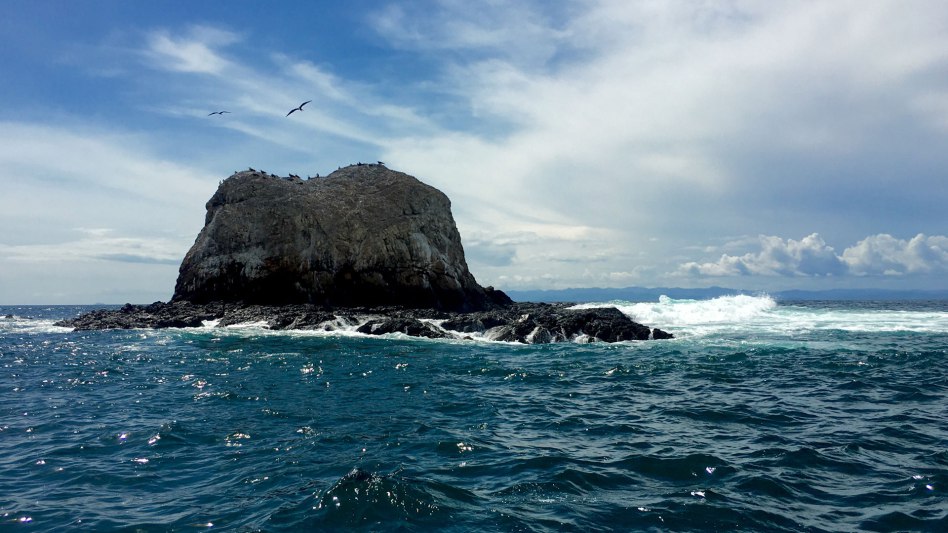 Sombrero Rock
By 2 pm after a quick lunch, we headed out for some popping. Not much success at our first stop at the usually highly productive Sombrero Rock. We had a couple of good strikes and a few follows but no hook ups. Next stop was at a 120ft drop for some jigging. This was when the flat fall Z-Craft showed everyone the difference. I was using a Rapier built Phenix 6' 20-60 lb class Titan jigging rod coupled with a Daiwa Saltiga 5000 loaded with 50# Powerpro Slick. First drop with a fast jigging action produced a nice albacore. Then a Snapper, several bonito and then a grouper, followed by several Jack Crevalles, then more albacore, a small yellowfin, grouper etc... Overall a very nice afternoon with lots of hook ups and some nice fresh meat for the table. The California crew did just as well on the other 31' Bertram. A nice dinner and lots of the local Panama beer later, we ended the day catching endless blue runners and juvenile jacks off the back deck of the Journey Bay with Sabikis. Most of them were held in a live bait tank for the next days fishing. Although we fished mostly with lures, they were a good backup.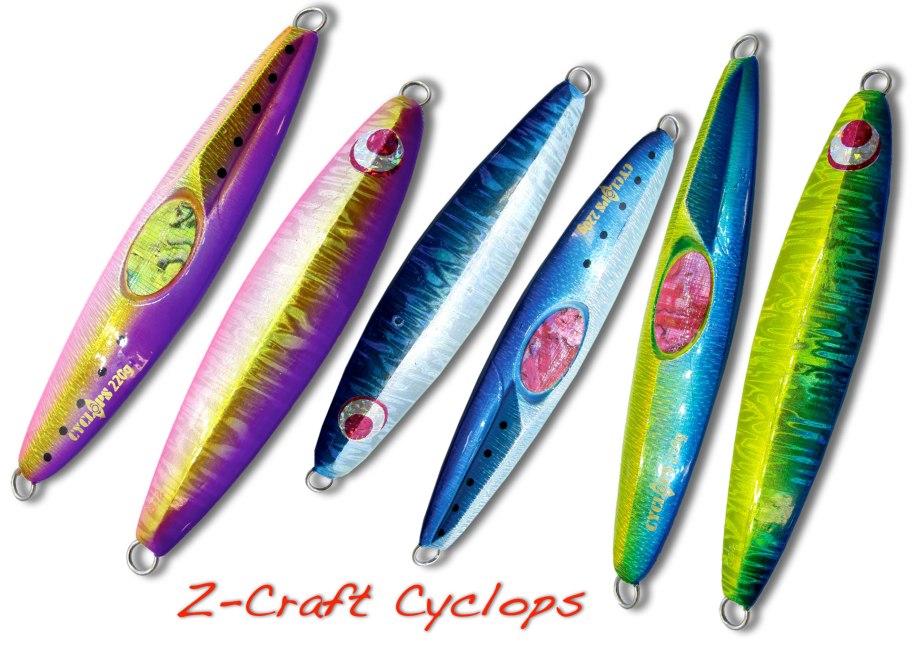 200 and 220 Gram Cyclops
The next day started with breakfast at 6 am. During my customary daybreak walk outside, I noticed that the 'Xtreme' crew had already rearranged all the tackle for the day's fishing and re-rigged ALL the jigging rods with the flat fall Z-Crafts I brought. Very cool! I guess the previous days field tests made them converts!
The following four days were a blur as we caught more fish and species than we could have ever imagined. The extremely competent crew knew exactly what to do at all times - anticipating all our needs and dispositions. For example, they observed that all of us were right handed casters and always positioned the boat with the right bearing for proper casting. They also studied the individual casting skills of the anglers and kept the boat at the right distance from the hot zones. They also knew when to move and change to other techniques by observing how exhausted they were with popping by suggesting a move to a jigging venue.
Each evening was a blast as we joked and laughed about the days events over good food, company and endless Panama beer. Highlight of the trip was a 450 lb Blue Marlin that took over 2 hours in the chair to bring in, and my personal best Pacific Sailfish on a Popper. Total number of species caught? Eighteen - Blue Marlin, Pacific Sailfish, Wahoo, Snapper, Mullet Snapper, Bluefin Trevally, Roosterfish, Cubera Snapper, Rainbow Runner, African Pompano, Bonito, Albacore, White Tuna, Yellowfin Tuna, Parrot fish, Trigger fish, Black Grouper, Broom Tail Grouper.
This report would not be complete without mentioning the incredible service aboard the mothership Journey Bay. Abner the chef was amazing and never failed to surprise us with the variety of dishes and how accommodating he was when one of our guys - an amazing chef in his own right wanted to whip up some dishes with the fresh fish we had caught. And Abdiel the Operations Manager and his team that made sure we had fresh towels, did our laundry and pretty much everything else to make us more than comfortable. By the end of the 3rd day our group had already unanimously decided that we will be back to Cebaco Bay. In fact we have already booked our trip for 2017 but I suspect that we may be back very much sooner!
If you need more info or help organizing a trip and recommendations about when, where and how, please feel free to leave a comment for me at the bottom of the page.
Here's a little music video I put together about the trip. The music score is by Makano. A local Panamanian pop singer. Hope you enjoy the video and pics!