Jalapeño Fish Or Calamari Recipe
Jun 24, 2016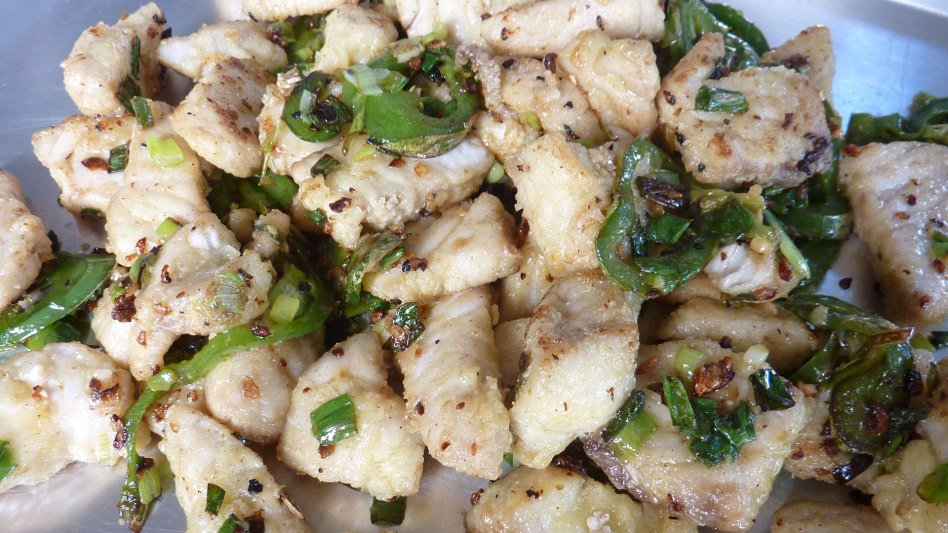 Ingredients:
Approximately 1.5 lb of any fresh firm fleshed fish (amberjack, redfish, shark or mackerel etc.) or equivalent of fresh squid.

2 egg yolks


Fine Sea Salt

Chinese Five Spice Powder

White Pepper Powder

Fresh Jalapenos – Sliced

Fresh Green Onions – Chopped

Fresh Garlic – Minced

Corn Starch (flour is ok but the crust will be thicker and not as crispy)

Cooking Oil
1) Preparing the Spice Mix:
Heat up sauce pan and add 2 tablespoons of sea salt. When the salt is very well heated up, mix in about 1/2 teaspoon of Five Spice powder. Mix well and turn off heat and set aside.
Heating the salt desiccates it and ensures that the mix will bind immediately with the cooked meats and vegetables once they come in contact. Heating the mixture also releases the oils in the spices which will infuse with the salt. You can mix up a larger batch and store it in an airtight container for future use.
2) Preparing the meat:

For Fish:
Trim, wash, dry and cut fresh fish into small chunks. About 2-2.5″ by 3/4″ size. Set aside in refrigerator for 30 minutes. If your fish is not 100% fresh or has a slight 'fishy' odor, try this old restaurant trick of soaking the filets for 30 minutes or so in cold water with half a squeezed lime or lemon in it first.
For Calamari:
Wash and clean squid and blanch them briefly in boiling water for 1-2 minutes.
Remove the thin purplish skin that covers the squid. Discard everything except the sheath and the head with tentacles. Make sure you remove the beak of the squid and the ink from the eyes.
Slice the sheath into rings or strips and halve the heads and tentacles lengthwise.
Dry and set aside in refrigerator for 30 minutes.
3) Marinate:
Add 2 egg yolks in mixing bowl.
For each pound of meat add roughly 1/4 teaspoon of salt and 1/4 teaspoon of white pepper.
Fill a cookie tray or large plate with about a 1/2″ layer of corn starch.
Mix in portions of egg coated fish chunks or calamari till all pieces are thoroughly coated.
Shake off excess coatings and set pieces aside.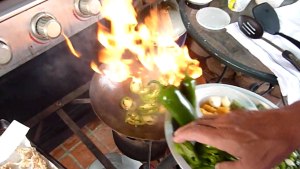 4) Cooking:
Heat deep fryer till 350F and cook fish or calamari for about 2-3 minutes. Do not overcook!
When done remove the fish or calamari from fryer and drain. For the calamari, put the tentacles and head pieces in the fryer first. Followed by the other pieces 1 minute later. You want the tentacles slightly more well done or crispy.
Meanwhile heat up a wok or frying pan.
Add cooking oil and heat till almost smoking.
Toss in a handful of the sliced jalapeños (less if they are very spicy).
The jalapeños are almost ready when they are are slightly charred and you start sneezing so it might be prudent to prepare this dish in a well ventilated or outdoor location.
Add a table spoon or two of mince garlic, then lastly add the chopped green onions. Stir fry mixture together till fragrant.
When the mixture is fragrant, add the deep fried fish or calamari and toss entire mixture together.
Avoid stirring too much at this time as this may break apart the fish pieces. Tossing is preferred.
Reduce heat. Continue tossing the dish in the pan or wok while sprinkling in the Five Spice/ Salt mixture. (Amount of spice mix is your preference but be careful to not make it too salty. About 1/4-1/3 teaspoon is about right for most people.)
Serve steaming hot and enjoy! Best with a nice bright Pinot Grigio!
Recipe is courtesy of Hardy Tong of the Happy Buddha Restaurant, Galveston, TX. You could also bring your catch to his restaurant and have him cook it for you if he is not out fishing!